Introduction
Hello Everyone, In this post, I am going to tell you about What is Amazon Transcribe, How we can use it in a simple and easy way possible, What is the pricing related to it, What are the possible use cases where we can use it, Finally I will conclude this article by giving you some thoughts on how to take Amazon Transcribe output to the next level and some suggestions for further reading on this topic. I hope you are excited, So, Let's get started!
What is Amazon Transcribe?
Amazon Transcribe is an Automatic Speech Recognition(ASR) Service by Amazon available on the AWS Cloud platform. It is capable of recognizing speech from an existing audio or video file. It can also recognize speech from the streaming audio.
You simply need to provide the media file in one of the supported formats and the service will deliver the transcribed text automatically.
It is well know as Speech-to-text service or STT for short.
How we can use Amazon Transcribe?
The simplest way to use Amazon Transcribe is from AWS Management Console.
Let's explore how to use Real-time transcription using Amazon Transcribe and for this,
You simply need to go to Amazon Transcribe
Choose Real-time transcription
Choose desired language
Click on Start streaming, this will ask to access your Microphone, allow that and start speaking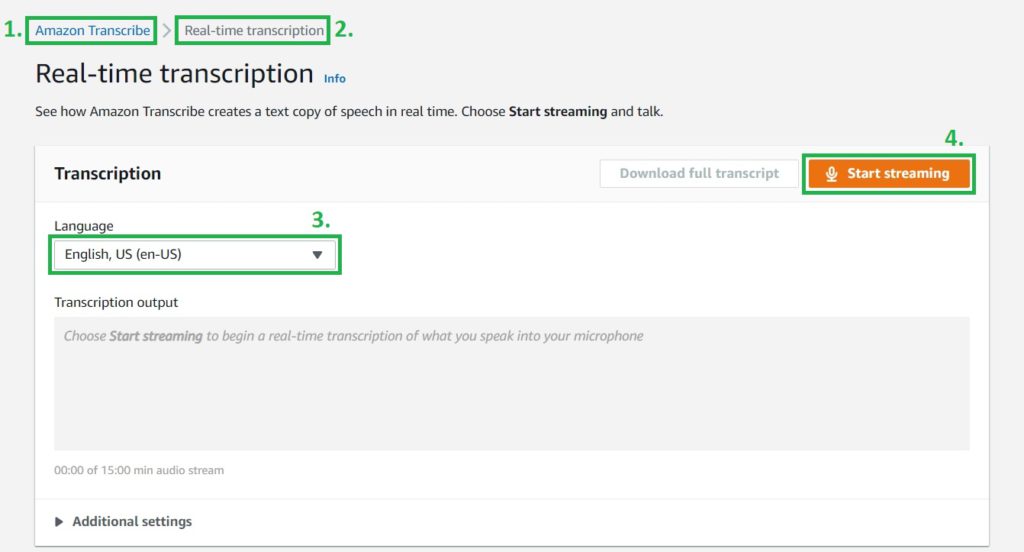 5. When you start speaking you will be able to see the transcribed text getting displayed in real-time under transcription output area.
6. Once you have done speaking, you will be able to download the transcribed text by clicking on Download full transcript button.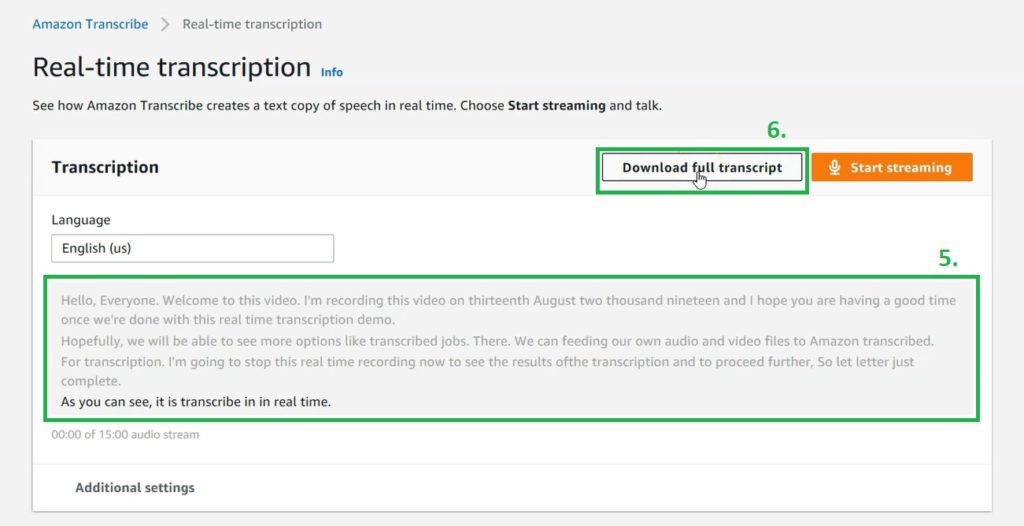 Let's now see how to create a Transcription Job to transcribe a media file that is uploaded to an S3 storage bucket.
Go to Amazon Transcribe
Click on Transcription Jobs on left hand side
Now, Click on Create job
Give a name to the Transcription job
Keep rest of the settings to default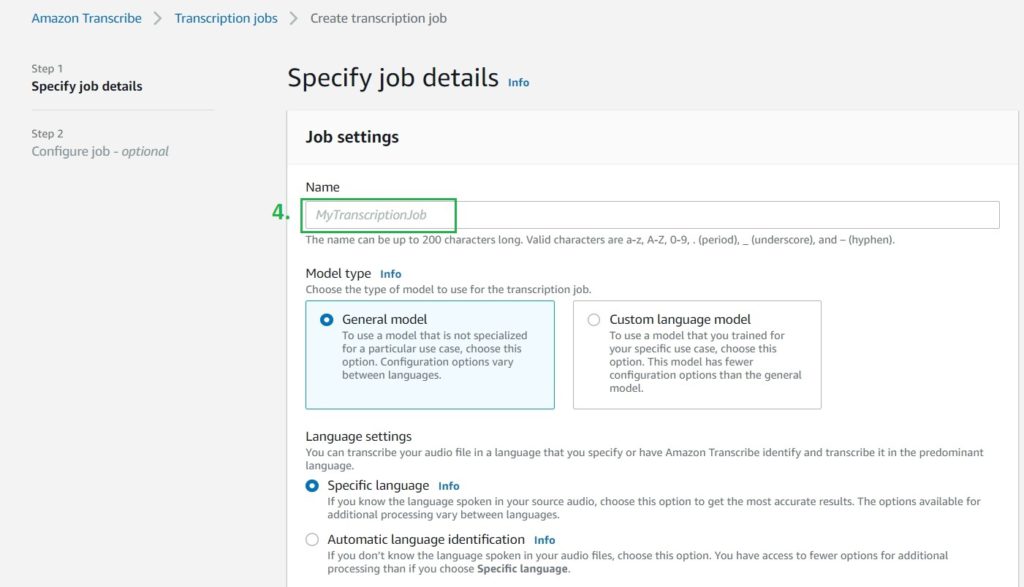 6. Select desired language of the media file
7. Now, Under the Input data, browse the media file that must be already uploaded into an S3 storage bucket, earlier we have to manually give the path of media file existing under an S3 storage bucket, but now with recent updates we can browse the contents of an S3 storage bucket and select the desired media file for generating the transcription
8. Under Output data keep default option of "Service-managed S3 bucket" this option will help us to see the transcribed output on the screen itself, otherwise we have to manually go to the S3 storage bucket to fetch the output data
9. Click on Next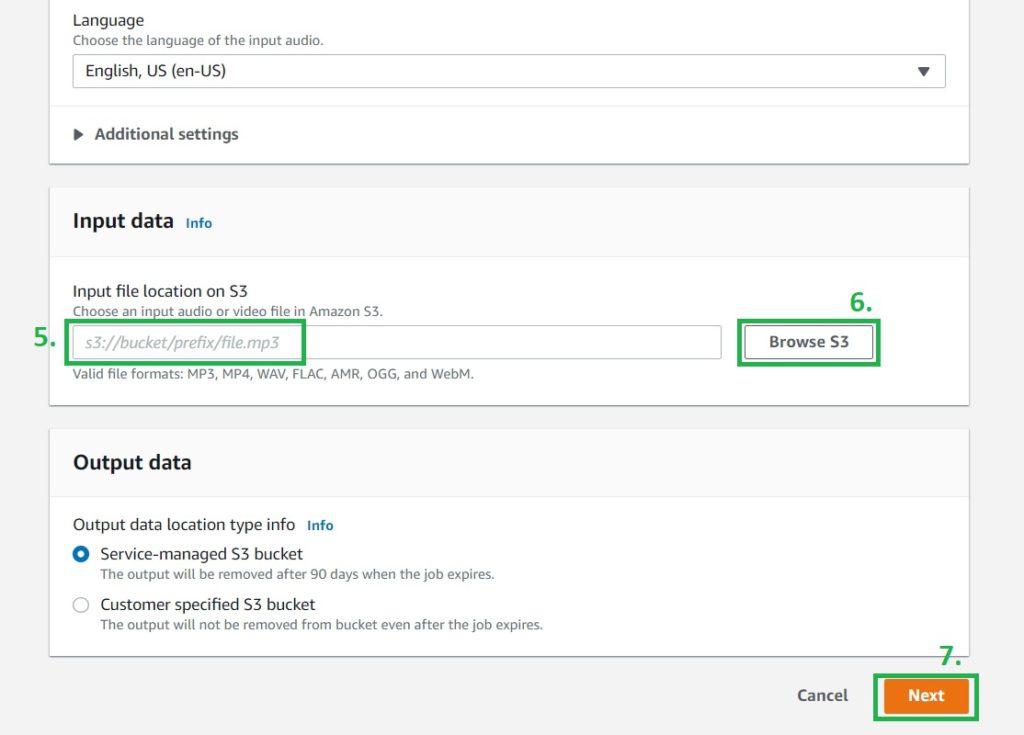 10. On this next screen, most of the settings are optional, we can skip them for the time being and directly click on Create button to create the Transcription job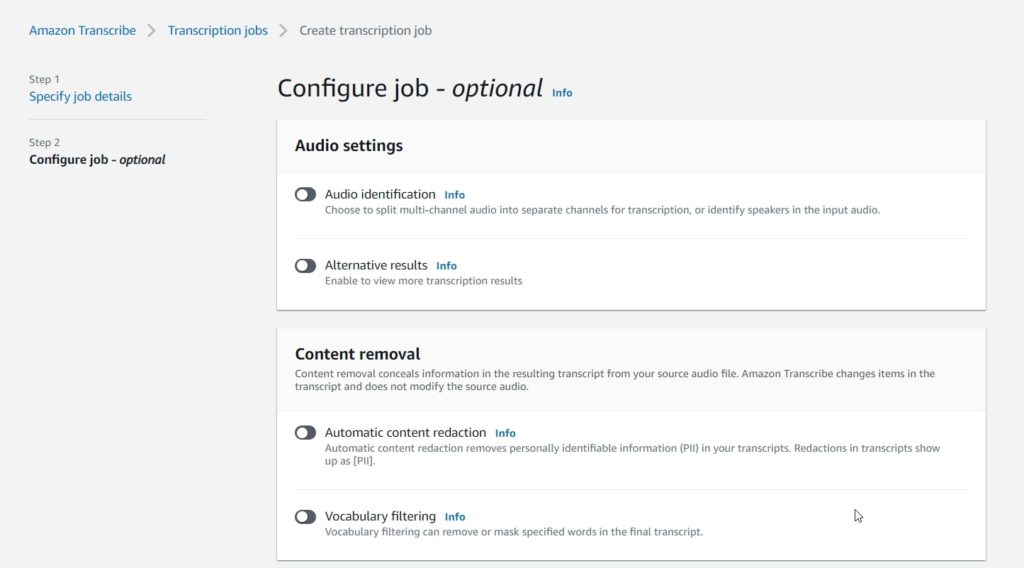 11. The Transcription job will go into the status of In progress and after a short while it will go into Complete status and once the Transcription job is Complete, we can Click on Download full transcript button to see the output on the screen itself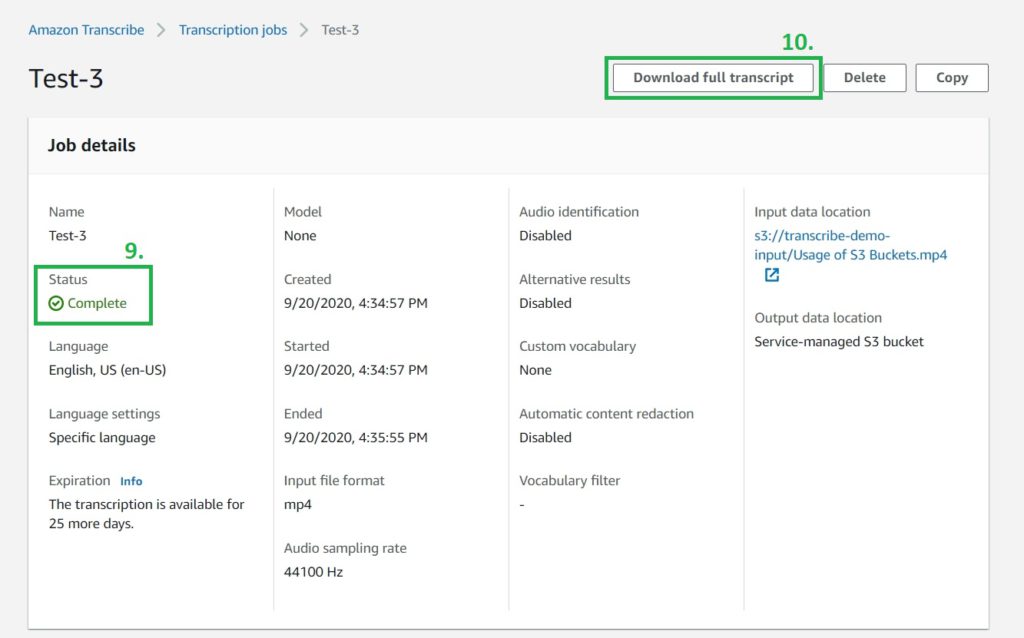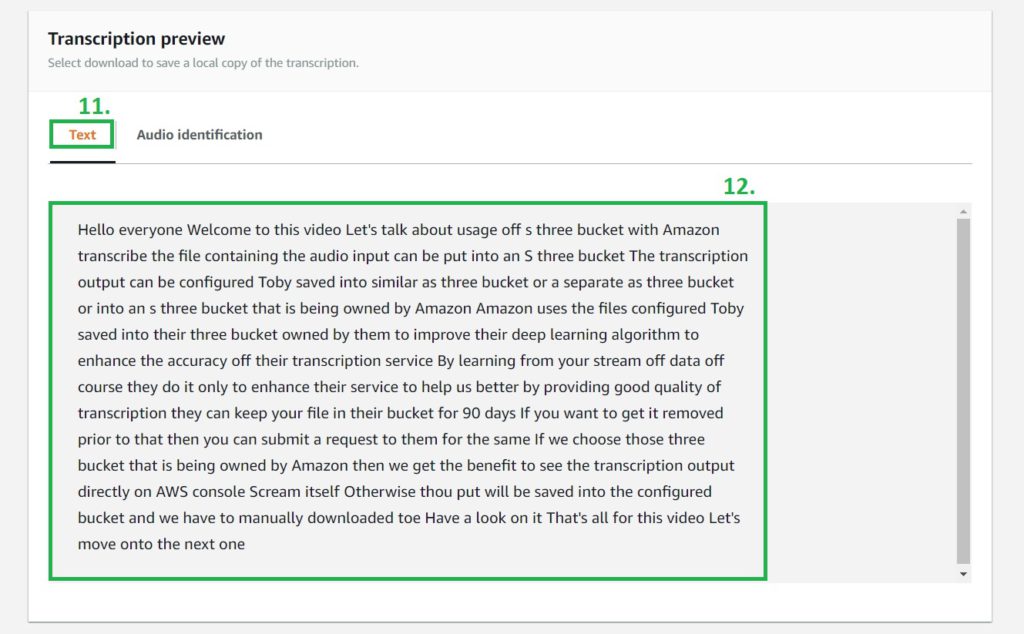 Amazon Transcribe Pricing
Amazon Transcribe follows a pay-as-you-go model for pricing based on the duration of audio transcribed in a month.
Under Free Tier, You can transcribe 60 minutes of audio without any cost every month for first 12 months.
Beyond Free Tier, You have to pay $0.0004 per second, with a minimum per request charge of 15 seconds.
Pricing for Amazon Transcribe may vary based upon the region that you select, So for accurate pricing for your AWS region please refer to this AWS pricing link related to it.
Amazon Transcribe Possible Use Cases
Amazon Transcribe can be used in any of the use cases where you need to convert audio, video, or speech data into text form,
for example:
In contact center – To covert customer and agent call recordings into text
In meetings and conferences – To automatically generate the Minutes of Meetings using Real-time transcription feature
3. In video production – To generate the subtitles for a recorded or live video
4. In advertising – To show relevant ads to users based upon the video content they have consumed
5. In search and compliance – To convert audio and video data into text to make the content easily searchable and make it compliant with desired regulations
Taking Output of Amazon Transcribe to Next Level
So, you have transcribed your audio or video files to text, Now you can take that text to the next level, You can translate the text from one language to another using Amazon Translate, and after translating you can give voice to that text using Amazon Polly in the native accents of your end-users. That way you can produce content in one language but can deliver it to global audiences in multiple languages, that too with their native accents to expand the reach of your products.
Conclusion
Amazon Transcribe is very easy and affordable to use, anyone with some basic computer knowledge can learn to use it.
If you are interested in learning all of the great features that Amazon Transcribe offers than you can check out one of my courses related to it available at Udemy.com, I will show you how you can utilize Amazon Transcribe in a step-by-step manner from AWS Management Console, Command Line Interface and also using Python SDK.
Further Reading
If you want to know how to create your AWS Free Tier account then you can watch all the steps in this Video
If you want to see a quick video demonstration of Amazon Transcribe then you can watch this Video
Lastly, Thank you for going through this post and giving me an opportunity to share this information with you.
Do let me know for which use case you would like to use Amazon Transcribe?